Covid-19 Tests
CLEAN ENVIRONMENT AND SAFE SOLUTIONS
All COVID-19 tests are performed in a specifically designated screening centre and NOT within the Brown's Pharmacies or Clinics. All swabbing personnel are wearing full PPE at all times. Appointments are booked respecting social distancing guidelines. The Public Health Authority is duly informed about every positive case registered.
Brown's and HSE Laboratories are collaborating to help mitigate COVID-19 spread. We are offering COVID-19 testing services with the aim of increasing overall nation-wide testing capacity, resulting in better accessibility to immediate results.
We have set up a 'walk-through' COVID-19 Screening Centre to perform COVID-19 testing in a safe and efficient way.
Below kindly find detailed information pertaining to the three COVID-19 tests we offer. This will help you gain a better understanding of the risks and benefits.
Tests
Choose one of the following solutions:
MOLECULAR TEST
RT-PCR TEST ... €130
The RT-PCR test is the gold standard COVID-19 test. The test results are ready in 8-36 hours. If you are experiencing symptoms; if you were in contact with someone who has tested positive; if you are travelling abroad, then this is the test for you.
L-RT-PCR test tal-COVID-19 huwa il-goldstandard test. It-test jagħti riżultat f'temp ta' 8-36 siegħa. Jekk qed tesperjenza xi sintomu, jekk kont f'kuntatt ma' xi ħadd li irriżulta pozittiv għall-virus, jew jekk ser issiefer, dan it-test huwa għalik.
Book Test
RAPID TEST
ANTIGEN TEST ... €35
The COVID-19 Rapid Antigen Test gives a result in approximately 1 hour. The Antigen Test is ideal for mass screening of people who work within the same organisation, people participating in large events; students within a school, and staff in general; also, asymptomatic individuals who would want a peace of mind. A re-test using the RT-PCR method needs to be taken if the result is a positive one.
Il-COVID-19 Rapid Antigen test, jagħti riżultat f'temp ta' bejn wieħed u ieħor siegħa. Dan it-test huwa ideali għall-ittestjar kollettiv ta' persuni li jaħdmu fl-istess post tax-xogħol, ta' persuni li jkunu attendew attivitajiet kbar, ta' studenti ta' l-iskejjel, u ta' l-istaff b'mod generali, u għal dawk li ma għadhomx sintomi u jkunu jixtiequ serħan tal-moħħ. Jekk ir-riżultat tiegħek joħrog pozittiv, tkun trid tagħmel re-test bil-metodu RT-PCR.
Book Test
ANTIBODY TEST
FINGER PRICK TEST
This test is a 2-in-1 test showing immune response to natural COVID-19 infection and vaccine efficacy, through a simple and easy finger prick test, with no fasting needed. The blood sample will be processed at a lab and the result will be sent by email 48-72 hours following blood collection. The Antibody Test is a qualitative test, which provides the titre level of 2 types of antibodies. The test is very specific and precise with no false negatives and can be performed on everyone, including children.
Book Test
We care about you
BOOK A COVID-19 TEST
Book your Test today through email, by phone or from our Mobile App. You can also book through our website by pressing the button below.
Fill In Our Form
OR
Download Our App
You can also book a test
by calling 21 525 252
Locations
Contact us today to instantly book your
Covid-19 Test,
at our designated Screening Centre.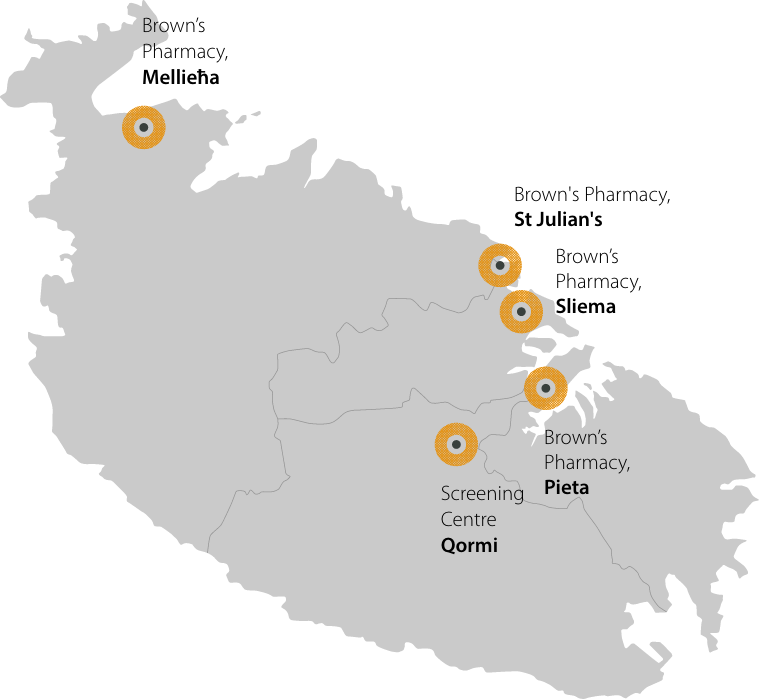 Contact Us
BOOK A COVID-19 TEST